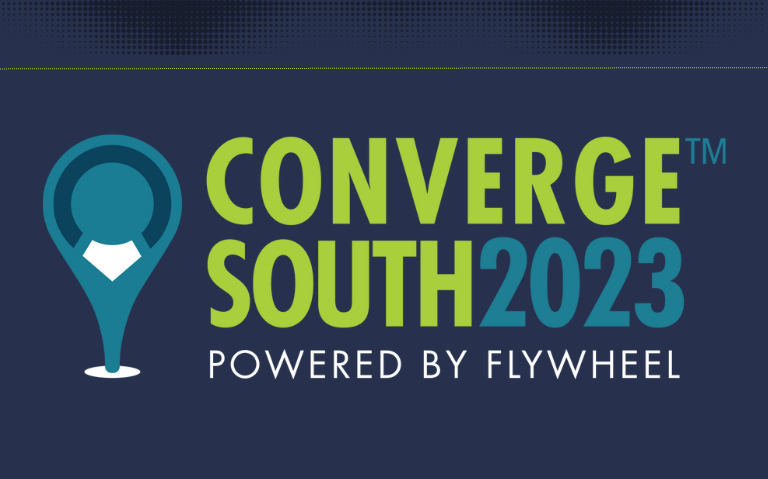 ConvergeSouth 2023 Is Coming to the Greater Charlotte Region
Concord, NC – August 22, 2023— ConvergeSouth 2023, a two-day Expo and Conference featuring founders, entrepreneurs, and investors coming together from across the Southeast, will be held for the first time in the Greater Charlotte Region on October 5th and 6th in downtown Concord, NC.
The event is open to the public who are encouraged to attend. For registration and complete information on the conference go to www.convergesouth.com.
"This is one of the largest gatherings of startups in the Southeast", said Peter Marsh, a partner in Flywheel and a founding Director of the Flywheel Foundation. "For investors, it's an efficient way to meet and evaluate emerging scalable startups that need capital as a growth accelerant."
Now in its ninth consecutive year, the event is produced by the Flywheel Foundation. This year the conference is being planned at the Cabarrus Center for Innovation and Entrepreneurship.
"Converge South will expose local entrepreneurs to resources and knowledge they can use to scale their business and will show to entrepreneurs from out of town what a tremendous entrepreneurial ecosystem we are building in Cabarrus," adds Page Castrodale, Executive Director of the Cabarrus Economic Development Corporation.
"We are ecstatic about an event that helps grow existing businesses and introduces our community to growing businesses from elsewhere."
The event is being staged in three venues surrounding the newly completed Courthouse Square including a 4,000 square-foot Expo Tent, the coworking innovation center at 57 Union Street South operated by Flywheel, and the 250-seat Davis Theatre.
The conference is a collaborative effort by regional Entrepreneurship Service Organizations, with Innovate Charlotte, RevTech Labs, Boost Pad, SBTDC, and Tech CXO serving on the organizing committee along with the local Chamber, Economic Development Council, and Small Business Center.
The companies exhibiting in the Expo Hall were screened by the organizing committee and selected based on their investment thesis and ability to scale to large enterprises. Over 75 early and growth-stage startup companies will be exhibiting.
The event includes two days of educational programming, main stage pitch presentations, and keynote speakers. The conference is an ideal opportunity for startup founders and leaders of small businesses in the region to network, meet investors, and stay on top of emerging trends and technologies.
"Community events like ConvergeSouth are absolutely critical to having a thriving, growing, and interconnected entrepreneurial ecosystem," said organizing committee member Dan Roselli, founder of RevTech Labs, a highly regarded FinTech accelerator in Charlotte. "I hope everyone motivates to get out of their house and attend," he continues.
"ConvergeSouth is a high-value engagement opportunity for investors and entrepreneurs alike," said Daniel Yohannes, CEO of Renaissance Fiber and one of the pitch competition winners last year.
"While the prize money is always nice, the real benefit of ConvergeSouth to entrepreneurs is engagement… with the entrepreneurial ecosystem, with investors, and with other entrepreneurs," he continued. "For entrepreneurs, feedback is the only way to get better at telling your story, and ConvergeSouth returned organized and useful feedback."
"We are really excited by the turnout," said Andrea Howell, Flywheel's Chief Operating Partner. "We've built a large following of attendees and we're excited to be expanding that with a new region."
Thirty educational workshops by industry professionals and academics will be offered concurrently with the presenting founders at the Expo Hall demo tables. The sessions are divided into Early Stage, Growth Stage, and Small Business tracks. Workshop topics include Artificial Intelligence, Cyber Security, Marketing Automation, Fundraising, Scaling Operations, and Product Development.
Featured on Main Stage the afternoon of Thursday, October 5th will be the five companies graduating from the Health Equity Innovation Challenge, administered by the Flywheel Foundation and sponsored by Atrium Health and the Eli Lily Foundation.
"This is a great opportunity for the community to learn about how innovation can tackle disparities in health outcomes in disadvantaged populations," said Roy Hawkins Jr., President of the Atrium Health North Market Area who will be the keynote for this program segment. "We are proud to support the development of these companies with tangible impacts in our market."
"ConvergeSouth was a hugely impactful conference for CliniSpan Health" adds CEO Dezbee McDaniel. "It got us connected to partners we had never crossed paths with."
"One of the biggest and most important happenings from ConvergeSouth for CliniSpan Health was learning about the Health Equity Innovation Challenge … You should definitely make it to Converge South because real growth opportunities do not always come from similar conferences as it did from this one."
The next day on October 6th, the Main Stage will feature two keynotes. Thom Ruhe with the NC Idea Foundation will present on the state of entrepreneurship in North Carolina. He will be followed by an inspirational presentation by Matt Sheehan, serial entrepreneur, investor, and co-founder of Raleigh, NC startup Exhale, taking the pain out of home maintenance and services.
Mainstage pitches on day two will feature lightning round pitches for prize money by the top five exhibitors as scored by attending investors. They will be followed by the year's top Pitch-Space.com presenters of the year from the Triad, NC and Charlotte, NC, and Greenville, SC.
"ConvergeSouth helps fund the work of the Flywheel Foundation in support of our programming across regional ecosystems," said Jill Atherton, the Foundation's Executive Director. "Every sponsorship and every ticket sold help us promote economic development through entrepreneurship and make valuable connections for founders and small business owners."
"The conference is not just for startups, entrepreneurs, and small businesses," adds Jill. "It is really a lot of fun for the general public. It's a mashup of emerging companies and small businesses with non-stop networking and pitches."
"ConvergeSouth is a beacon for Charlotte's entrepreneurial spirit," said Bryan Dennstedt, TechCXO Partner and an active startup mentor in the region. "By uniting startups, mentors, and investors, it fills a vital gap, fostering innovation and growth in our region. It's not just an event; it's a catalyst for the future of Charlotte's business landscape."
"I'm eager to witness the spark of new collaborations and the birth of innovative ideas. ConvergeSouth is where Charlotte's next big success stories begin, and I'm thrilled to be a part of that journey."
Media Contact:
Jill Atherton
Flywheel Foundation Executive Director
jill@flywheel-foundation.org
phone: 336-287-2554
About Flywheel and The Flywheel Foundation:
Flywheel designs and operates coworking innovation centers in collaboration with local institutions. In addition to its Winston-Salem location at 500 West Fifth, Flywheel is expanding to additional locations, most recently in Concord, NC with the Cabarrus Center. Flywheel provides infrastructure for entrepreneurs, delivering affordable workspace for startups, consultants, and freelancers.
The Flywheel Foundation is an affiliated non-profit charitable organization dedicated to eliminating barriers to entrepreneurship through ecosystem development, education, research, and investment.
For more information, please visit www.flywheelcoworking.com and flywheel-foundation.org.
Boost Pad, business, Cabarrus Center, conference, ConvergeSouth, Davis Theatre, Economic Development, educational programming, entrepreneurs, expo, Flywheel, founders, Innovate Charlotte, investors, RevTech Labs, SBTDC, Small Business Center, startups, Tech CXO