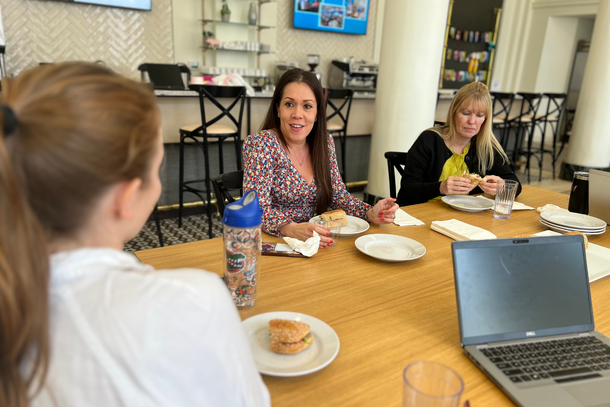 Involvement in a Local Industry Organization, NAHREP, Brings Realtor Sarah Hilton Personal Fulfillment as Well as Professional Knowledge.
Behind the Grind: Flywheel Members Share Tidbits from Their Journeys
Sarah Hilton's primary career is running her boutique marketing firm out of the Concord Flywheel Coworking location. As the CEO of The Lead Suite, her focus is on teaching other real estate agents best social media practices and ad strategies to grow their business. She is also a real estate agent herself and is passionate about helping members of the Hispanic community realize financial security through homeownership.
Hilton believes that getting involved within her industry by joining the National Association of Hispanic Real Estate Professionals® (NAHREP), whose mission is to champion homeownership for the Hispanic community, has really helped her grow her business while also strengthening her passion FOR the business.
"Hispanics are the least knowledgeable about growing their wealth," she said. "Learning ways in which I can educate them and help them buy homes has helped me grow personally. Homeownership can change the trajectory of my clients' lives and shrink the wealth gap for generations to follow. That is a huge impact."
Sarah was born in New York and "takes her pizza seriously!" You are easily drawn into her energy almost immediately. She speaks fondly about learning her early lessons about homeownership from her Grandmother who moved to NYC from Puerto Rico. Like many, she came to this country with no money and she and her Grandfather worked hard to make a living.
And they also saved…every penny they made! Eventually, Hilton remembers her family buying an apartment building and almost every member of her family lived in it at one time. She jokingly shares that it wasn't exactly nice, but they owned it and it was a roof over their heads. She said they probably would have been living on the streets if it wasn't for homeownership.
When her grandmother passed away, she was able to give money to every single one of her children…the start of financial security for the next generation in her own family.
Getting involved in an organization that helps you grow professionally and personally can be a great investment of your time and energy. Take Sarah's advice and get involved!